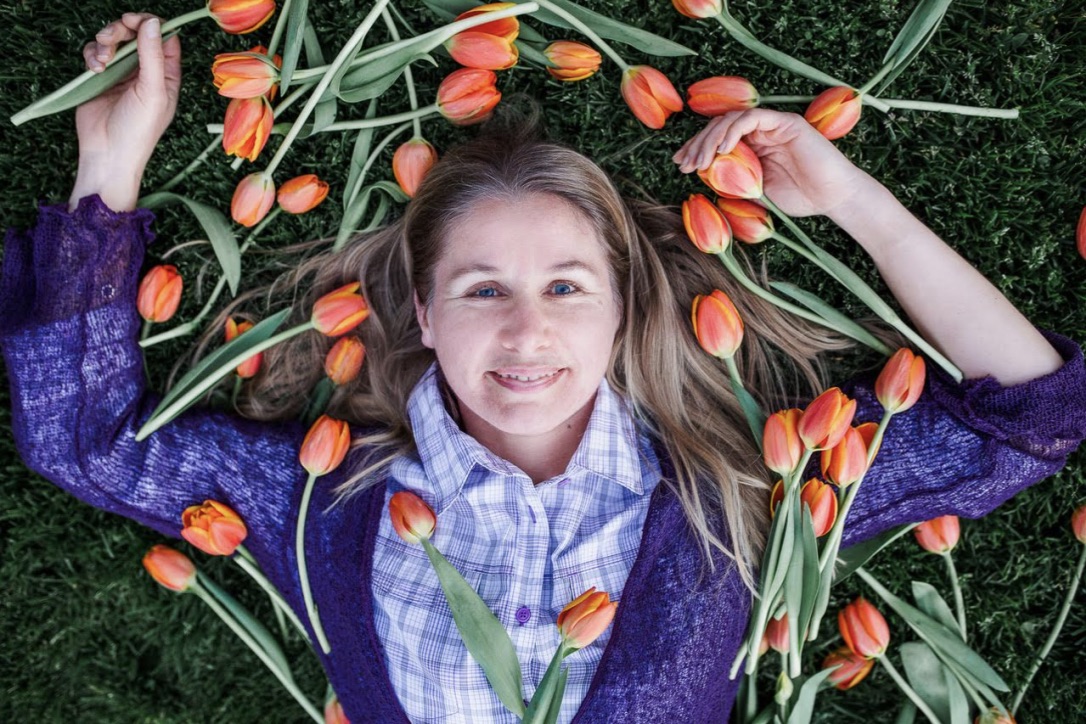 To me, nothing says "Spring" like a lovely tulip (which happens to be my favorite flower.) These graceful long-stemmed beauties are surprisingly hardy and bloom year after year. We can learn a lesson in resilience from tulips. This month we welcome Spring – a time of rebirth and new growth in gardens and in ourselves. We have been sheltering in place for a year now and slowly are beginning to emerge from our homes. As local restrictions are (hopefully) lifted, we can once again get outdoors, reconnect with loved ones, and go back to more social interactions. Restoring positive mental health is vital to our overall wellness. I encourage each of you to re-enter society this month (at a rate that is comfortable for you) and re-establish relationships that were put on hold this past year since we are indeed social creatures and thrive with a variety of social interactions. Wellness from the inside out is the goal.
March is both National Nutrition Month and National Colorectal Cancer Awareness Month. Now more than ever, I encourage you to consider your food choices as each meal has the potential to improve or derail your health and wellness.

For National Nutrition Month, I suggest you take action. If this past year you have fallen off the wagon and developed some unhealthy habits around food, it's not too late to make the much needed u-turn and reverse course. Remember that the most important determining factor of our health is what we put into our mouth, several times a day. The good news is that while we cannot control everything out there, we have a lot of control over what we put into our bodies, where we grocery shop and what we buy, if and how often we cook, and how we organize our kitchen space. Read the Full Article.
Movement of the Month: Hiking
For a variety of reasons, many people say Spring is the most delightful season. In many places, this season brings comfortably mild temperatures in the 60s and 70s and more light and colors with everything blooming. These are two very important mood boosting factors.
Getting out in Nature for a hike is an important part of all wellbeing and fitness regimens. Hikes can easily be varied in length and intensity to become a tailor-made experience. The dual benefits of movement combined with being outdoors and experiencing Nature are priceless. Indoor treadmills have their place in a fitness routine but there is nothing like the soul cleansing aspect of Nature bathing or "Nature Therapy": In Japan people practice shinrin-yoku, which means forest bathing. Participants hike in forested areas to bathe in the energy and clean air of the woods. Human well-ness is deeply linked to the natural environment. More evidence now suggests that being in Nature is essential for both our mental health and immunity. Nature has a calming effect on depression and sleep, and exposure to Nature has been proven to be a key factor in maintaining good physical, social and mental health. Dr. Michael Greger explains that even "thinking" about going into the forest has healing effects. This is called the "anticipation placebo effect". I can truly say that I always look forward to going on any hike. Read the Full Article.
Celebrate St. Patrick's Day with this comforting Shepherd's Pie
Vegetarian Shepherd's Pie with Gravy
Ingredients:
• 4 potatoes peeled and cut into chunks
• 2 tablespoons vegan or regular margarine
• 1/4 cup unsweetened soy milk
• Salt and pepper (to taste)
• 1 onion (diced)
• 1 tablespoon vegetable oil
• 1 1/2 cups plant-based ground beef substitute
• 1 1/4 cups vegetarian gravy (recipe below)
• 1/2 cup green peas
• 1/2 cup corn
• 1/2 teaspoon garlic powder
• Dash of cayenne pepper
Instructions:
• Pre-heat oven to 350 F
• Boil the potatoes until soft. Drain and mash with the margarine and soy milk, add salt and pepper to taste, and set aside
• Saute the onion in vegetable oil until tender, about 4 minutes
• In a large mixing bowl, combine the onions, plant-based beef, vegetarian gravy*, peas, corn, garlic powder, and cayenne. Pour into a deep dish pie plate
• Spread the mashed potatoes over the veggie mixture
• Bake for 30 to 40 minutes until heated through and the top begins to turn golden brown
*Vegetarian Gravy recipe:
Ingredients:
• 2 tbsp vegan or regular margarine
• 1 diced onion
• 2 tbsp flour
• 1 tsp garlic salt
• 2 tbsp cornstarch
• 1 1/2 cups vegetable broth
Instructions:
• Heat the vegan margarine over medium heat in a large skillet and sauté the onion for 2 minutes
• Add in the flour and garlic salt and sauté together for about 5 more minutes, stirring often to prevent the flour from burning
• Add in the vegetable broth and the cornstarch, stirring to mix the cornstarch well. Bring to a boil, then reduce to a simmer over low heat, stirring frequently to make sure no clumps form. Keep stirring until the gravy thickens.
Healthy Habit of the Month: Edible Gardening
Realize this: every time you eat, you either bite into nutrients that go towards your health or you bite into chemicals that go towards your illness. Growing some of your own organic food is one terrific way to know what you put onto your plate. Since you control the environment, there will not be any chemicals on your veggies. I encourage everyone to consider starting to grow something edible. Did you know that during and right after World War Two, food was grown in 45% of home gardens (called victory gardens)? However, by the end of 2019 the number of home vegetable gardens had dropped to less than 0.1% of households. During Covid times, gardening and growing food enjoyed a renaissance and was one of the most uplifting trends of 2020. If you did not get a garden going last year, now is the time to start one for 2021.
And, gardening is not only good for the soul and great for your health, it is also good for our planet! Your food goes from yard to plate, without any transportation or packaging materials involved! Read the Full Article.
---
On a personal note…
After living in the US for 20 years (March 10th marked my 20 year anniversary in California), finalizing my friendly divorce from Markus and the twins leaving the nest, the time has come for me to start something new.
I am so excited to share that I am moving forward with my dream of living the Van Life some time within the next few years (when both my kids are out of the house). I plan to work remotely while traveling the country. Besides taking care of my online clients and group coaching, I plan on exploring organic farms and orchards, on a larger scale than my backyard and front yard gardens, learning about sustainable farming and ways of preserving our soil. There is a global community out there, conscious of ecological farming practices, and many Van Lifers spend about half a day helping out on a farm, while receiving free room and board during their stay. So, roughly you can imagine me picking apples in the very early morning, teaching my classes online later, giving cooking classes or demos out of my Van Kitchen while doing a lot of hiking, visiting Vegetarian Food Festivals and reconnecting with friends. How does that sound?
I am currently getting a van outfitted for my needs. Last month Marisa and I drove the Promaster van I bought last fall in Los Angeles to Bend, Oregon, where it is currently being transformed into the tiny home on wheels of my dreams.
While I am a few years away from becoming entirely nomadic, I do plan to start with several smaller trips to get back into Nature. I also plan to reconnect with friends who – over time – left the Bay Area and started somewhere new. I will probably take off for the first time in the summer. In the meantime, you can follow me on my new Instagram account, the_plantbased_vanqueen (my regular account is 7healthydays).
How To Connect, Discover & Join
Constance's Exercise Classes
In-person classes are held at the Southwest YMCA, Saratoga, CA
Tuesday:
7:00 AM Strength Training / Zoom, 45 min
8:00 AM TRX @ YMCA
5:00 PM Strength Training / Zoom, 45 min
Thursday:
6:15 AM Cycling @ YMCA, 45 min
8:00 AM TRX / Zoom, 1 hour
Friday:
7:45 AM Foam Rolling & Stretch / Zoom, 45 min
11:30 AM Low Impact Cardio & Strength / Zoom, 30 min.
Saturday:
8:15 AM Cycling @ YMCA, every other week
8:15 or 9:30 AM TRX / Zoom, time alternates every week
email: constance@7healthydays.org for details
Prioritize Your Health Now!
Start your permanent health transformation
Join my 8-week group program on Zoom
prioritizeyourhealthnow.org
March – "Spring Awakenings"
April – "Spring Clean Your Health"
May – "Embrace Wellness"
June – "Mid-Year Reboot"
Meetups
Check out my Meetup group, Healthy Adventures (Bay Area) for local hikes, Zoom fitness classes and healthy potluck gatherings.
Free Consultation with Constance:
email: constance@7healthydays.org to get started
Better Health for Busy People
My one-stop resource for all things health and wellness.
downloadable eBook – $9.99
Buy Now! – betterhealthforbusypeople.org/