BETTER HEALTH FOR BUSY PEOPLE
MAKE WELLNESS YOUR HABIT WITH REAL FOOD AND LIFELONG FITNESS
Do you feel unhealthy, but have no time to even think about getting better?
Learn strategies to tackle what seems insurmountable.
Do you know deep down you are not eating healthy meals?
Learn how to cook healthy, real food meals.
Do you feel completely clueless about what you should eat or feed your family?
Learn about the Food Industry and healthy food choices.
You have struggled with your weight for years, the baby weight is still on and the youngest is in college
You need a food makeover, not a quick-fix diet.
You have tried every diet on the planet but nothing has worked in the long run
It's not a diet, it's a lifestyle.
You cannot fall or stay asleep worrying and then you don't know how to make it through the next day…
There are drug-free solutions.
You travel for work, don't sleep well, and you just grab whatever food you find at the airport without thought…
Tips for staying healthy on the road or on a business trip.
You fall into food traps at work and socially and feel obligated to eat whatever is put in front of you…
Learn the tools to set boundaries and to better manage this.
You cannot climb a flight of stairs without being out of breath, and you are too fatigued to play with your kids…
There are fun ways to incorporate regular healthy exercise and activity into your daily life.
You have put your own health on the back burner with no time for or fear of a medical checkup (there are some daunting diseases in your family)…
The time to begin is now – no excuses, there's too much at stake.
You crave a healthier lifestyle, but can't even think about how to fit that into your busy schedule…
It's time to get organized and to set priorities – you can do it!
Does it seem like you have it all together, but in reality you barely manage to juggle your home/work responsibilities…
Effectively plan and organize your healthy self/family.
Do these symptoms of an unhealthy life sound familiar?
You are not alone: I personally have helped countless people who have struggled with several of these aspects in their lives, and I myself have experienced the challenges a busy lifestyle brings with it… And they get worse when you are feeling tired or stressed out, or when you are pulled into the wrong direction by your social ties. And it does not get better when you are facing so much conflicting health information that is out there.
The right steps into the right direction can make things significantly better.
WHO AM I AND WHY CAN I HELP YOU?
You might be asking yourself why you should listen to me and what makes me an authority on helping men, women, and families get back on track for a healthier lifestyle, lose and maintain weight, prevent, halt or even reverse chronic disease and become a more energetic, happier self.
I am Constance Kaltenbach, and besides being an ordinary mom of two teenage kids… I am also a former physical therapist with more than 10 years of work experience in Germany, a group exercise instructor, a certified personal trainer, and a holistic health coach and nutritionist. Additionally, I am a hobby gardener and cook, self help book lover, traveler, exercise fan, healthy sleep enthusiast, and a community builder, too .
My own hectic life includes work as a personal trainer, health coach and group exercise instructor and managing and expanding my healthy lifestyle-focused business while raising teenagers and managing our family's home life (including a beautiful vegetable garden).
I am very busy and feel overwhelmed sometimes too, so I hear you!
While I have always led an active lifestyle, over the last 10 years, while feeding two growing children, my interest and passions shifted more towards food, the food industry (aka BIG FOOD), and how everything we take in affects our health and the environment. I have done a deep dive study of the systems of the food and medical industries, and I have learned so much that both made me as mad as heck AND inspired me to share what I know!
That's what inspired me to create ONE RESOURCE for all busy people out there who are focused on the betterment of their health and wellness, or at least wonder how to get there.
How much would this knowledge be worth to you? Suppose you could sit down, read a simple eBook, follow the advice and try out a few of the common sense suggestions and steps, recipes and strategies, and you could feel better in just a few days!
Sounds too good to be true?
Introducing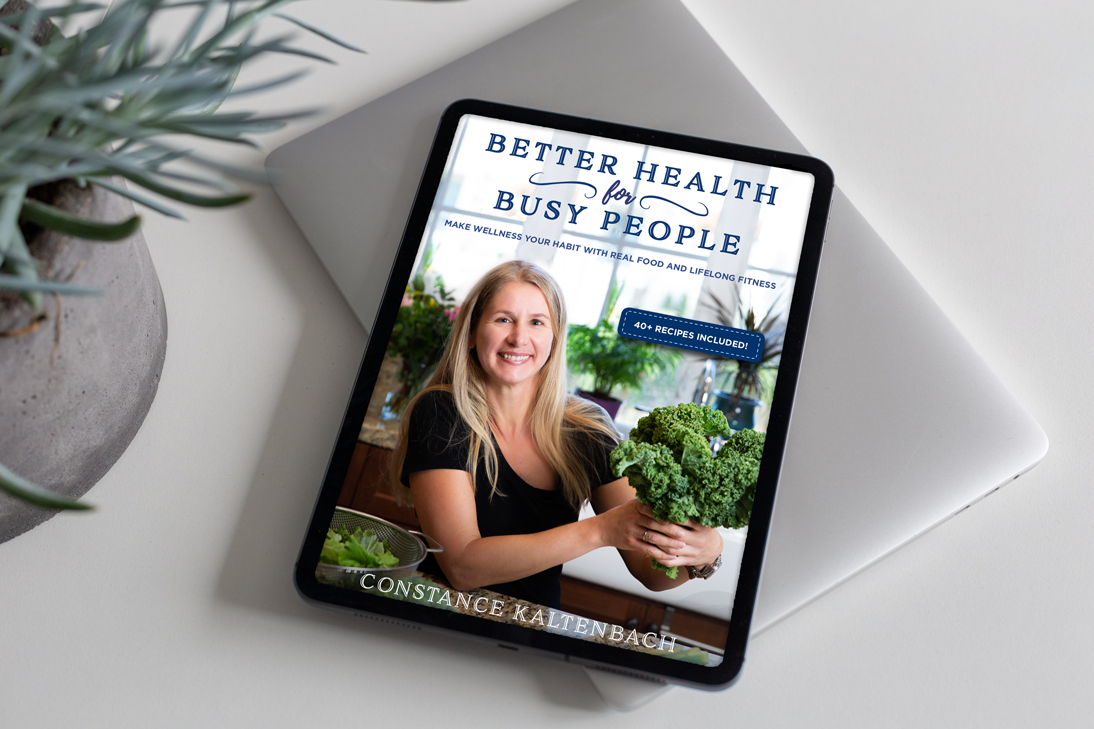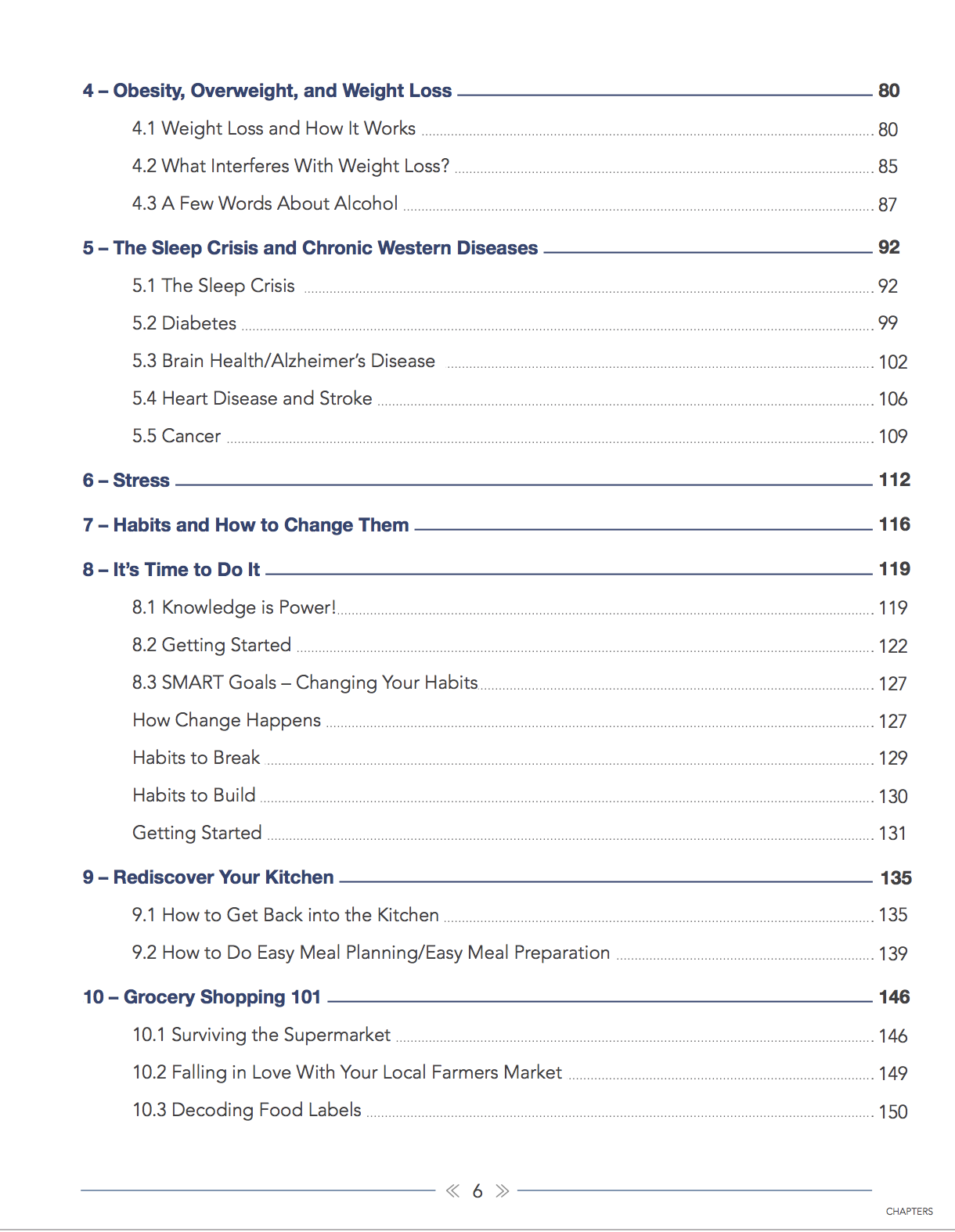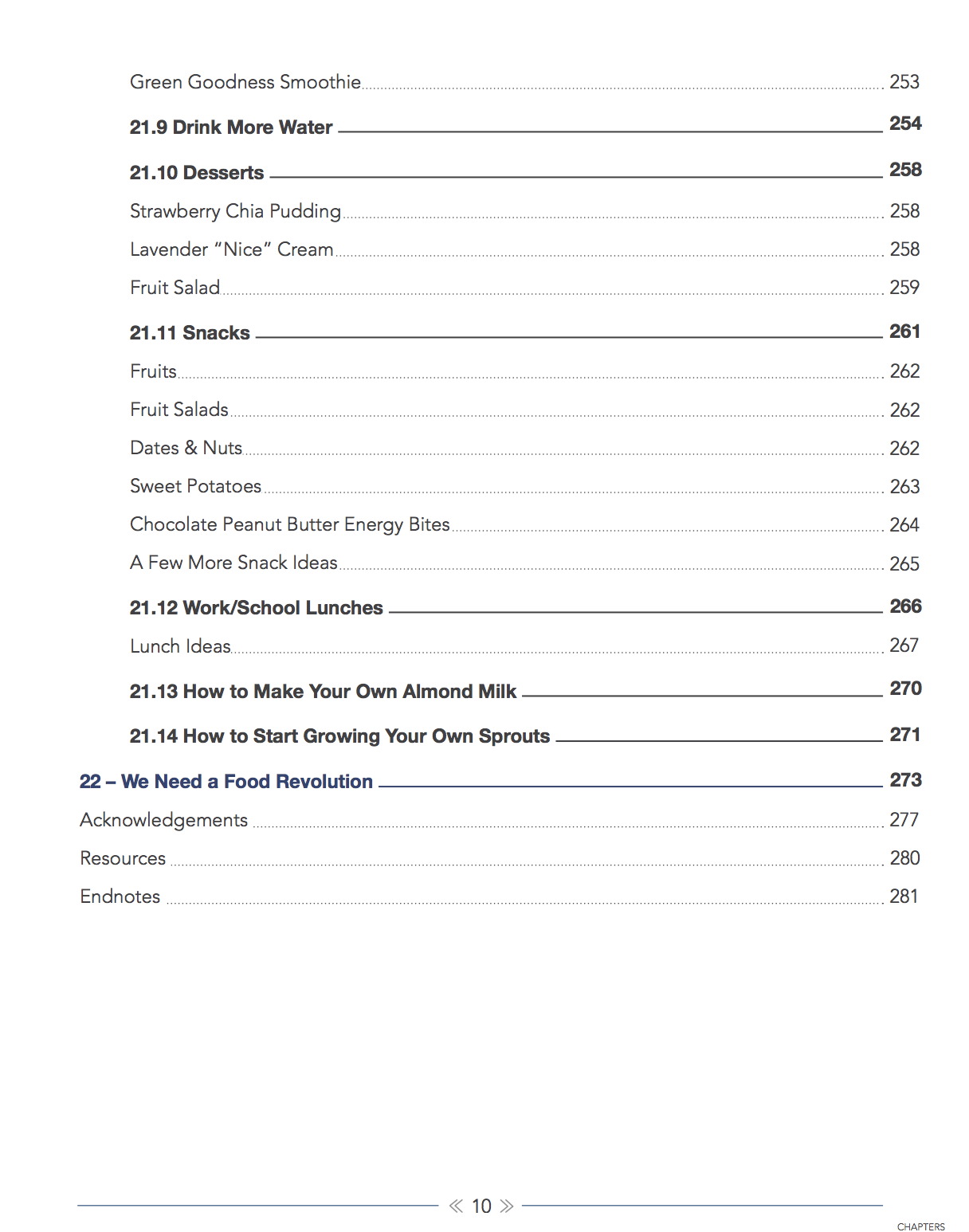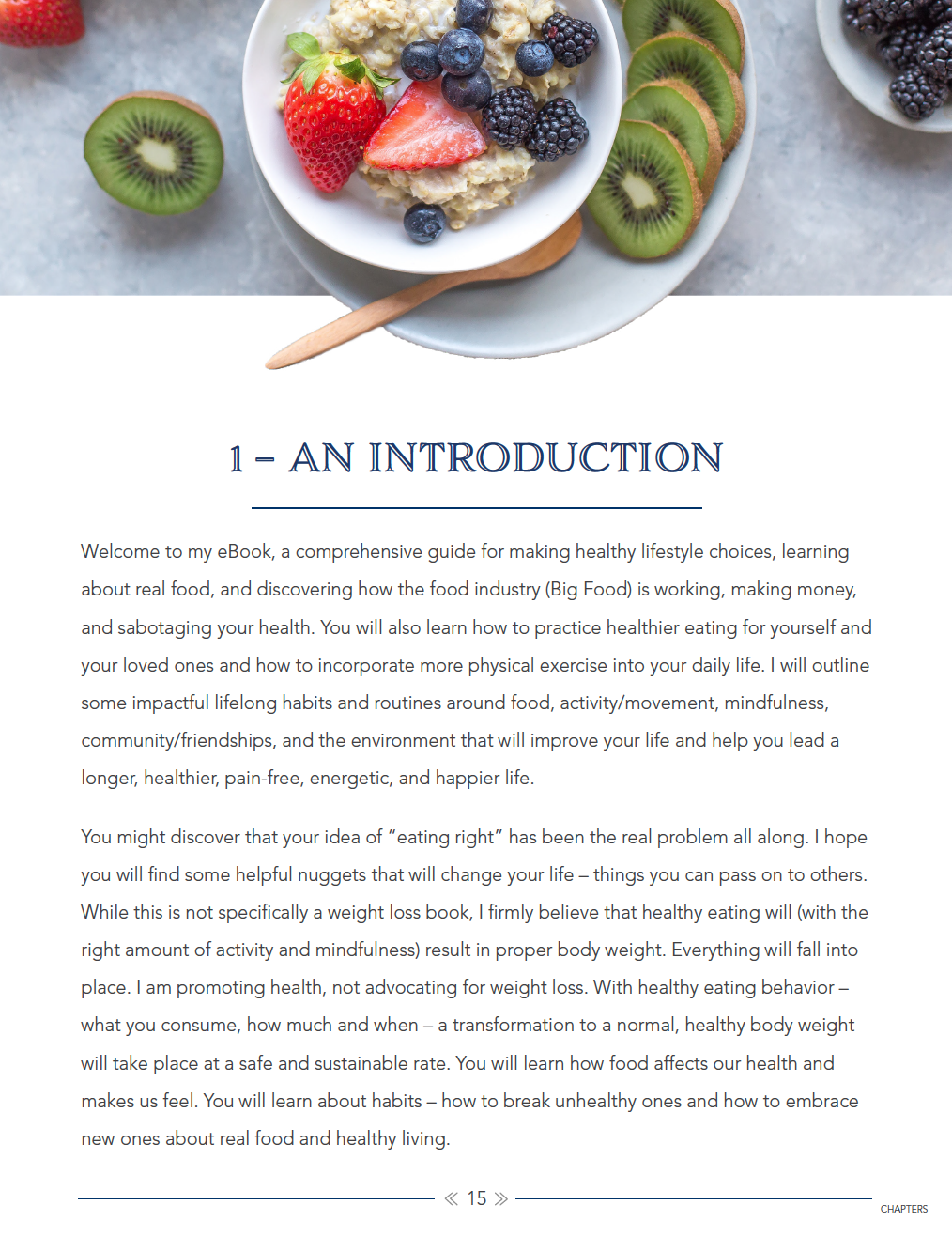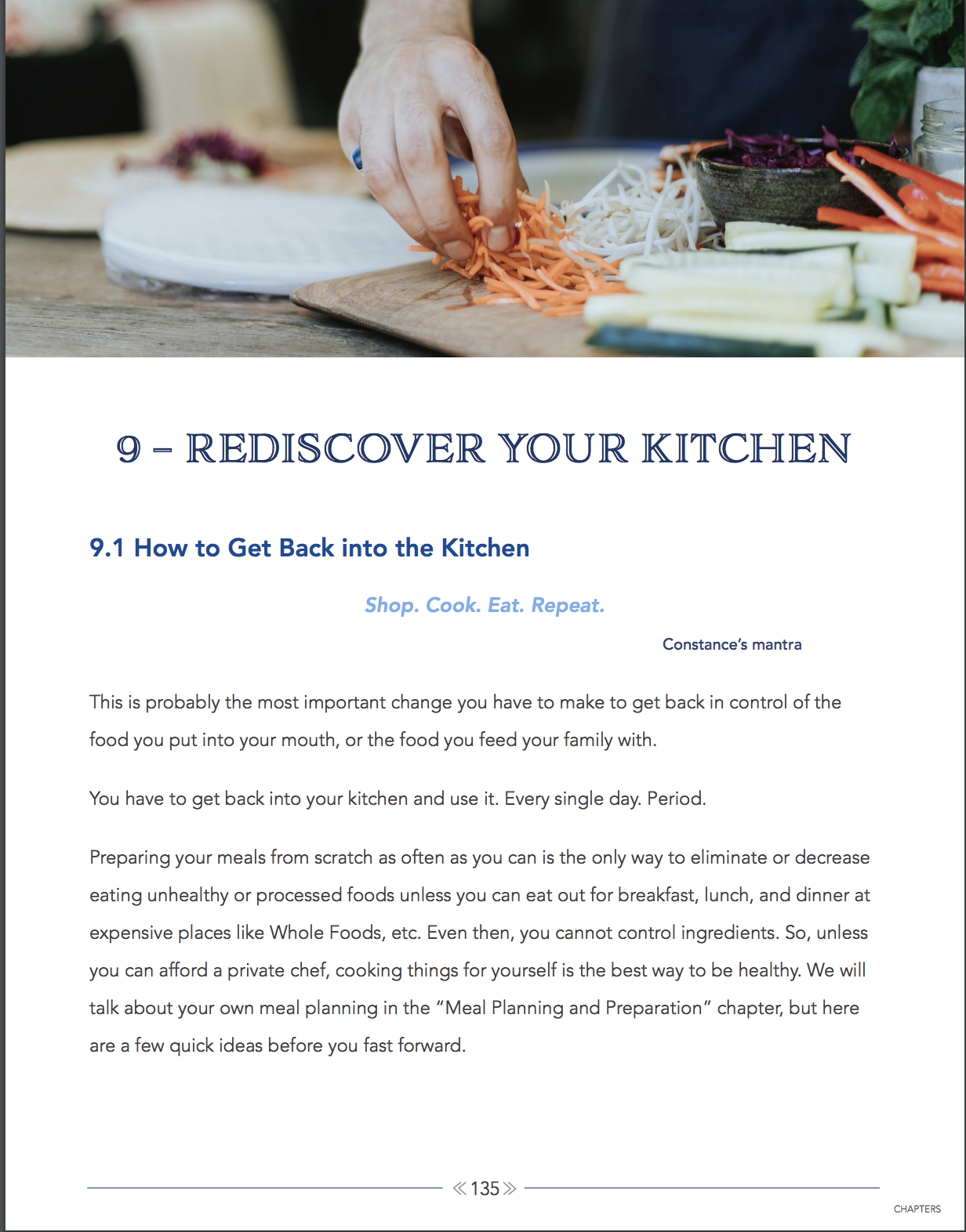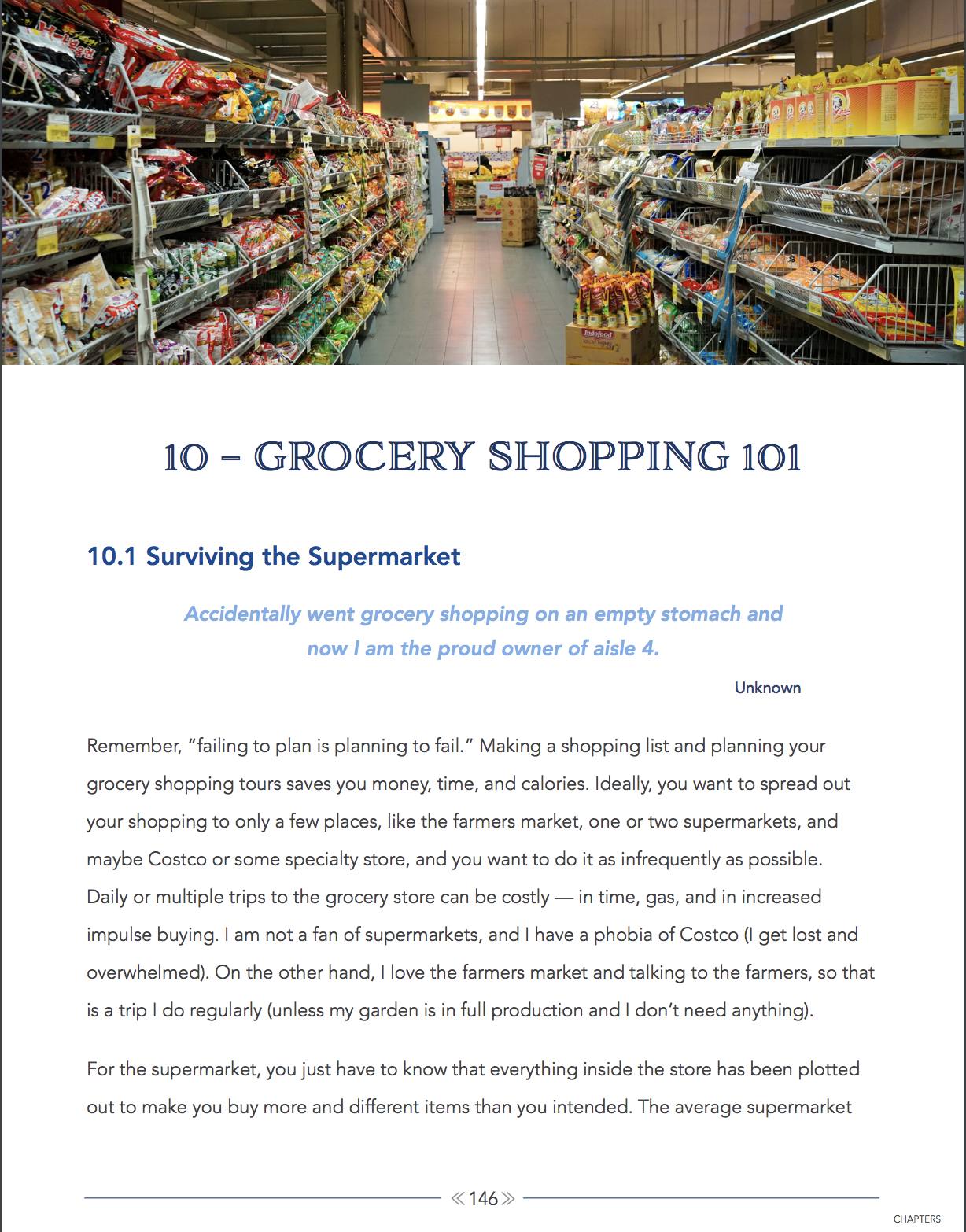 Screen Shot 2019-04-30 at 9.42.33 AM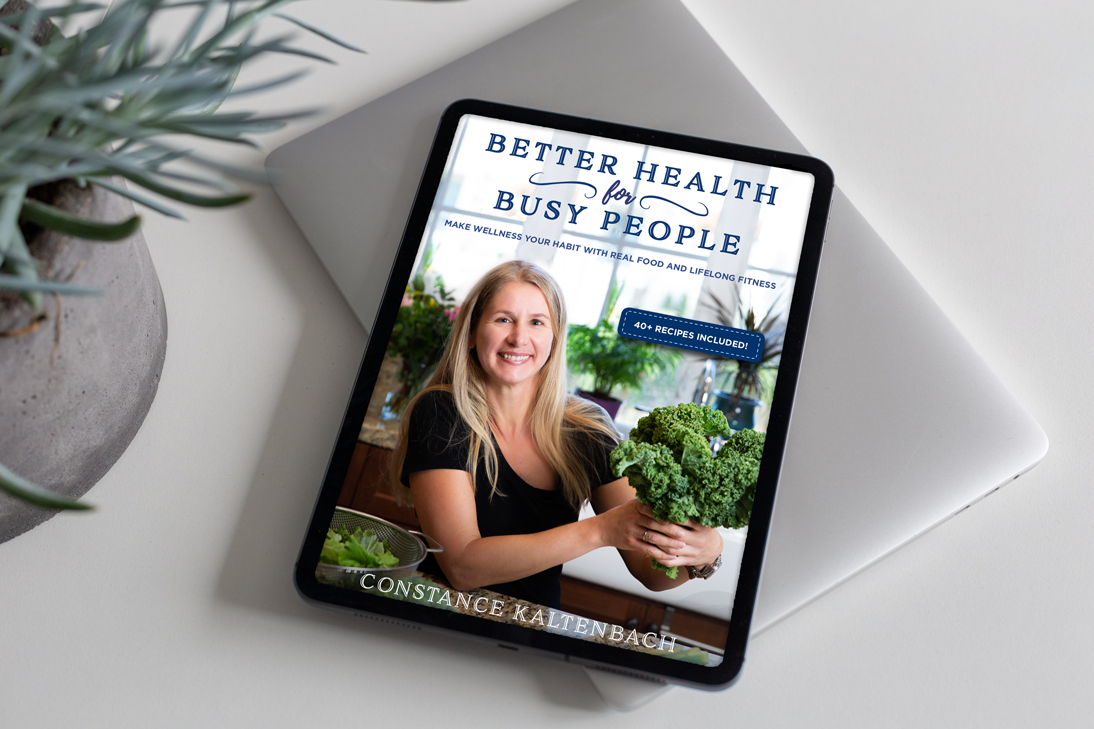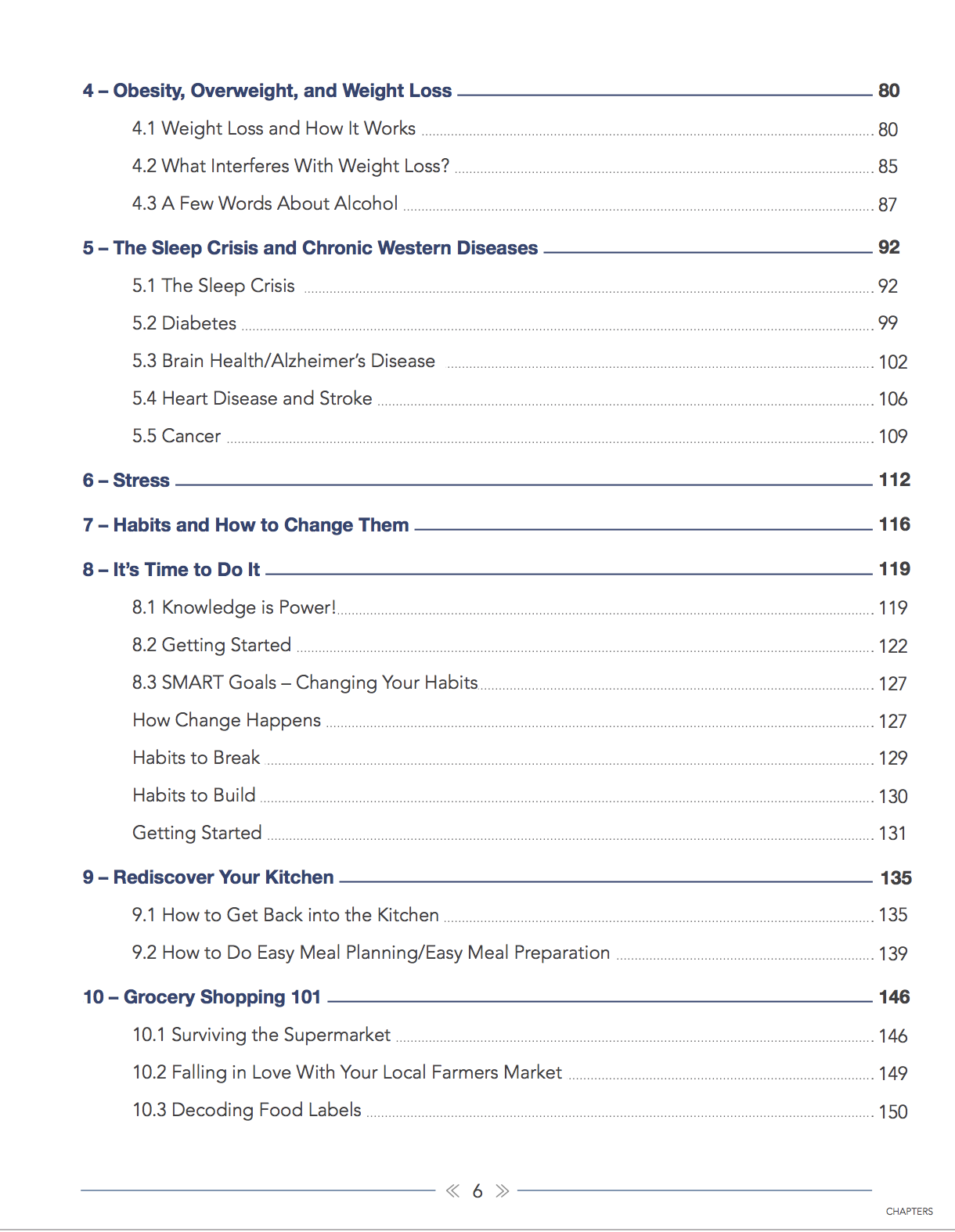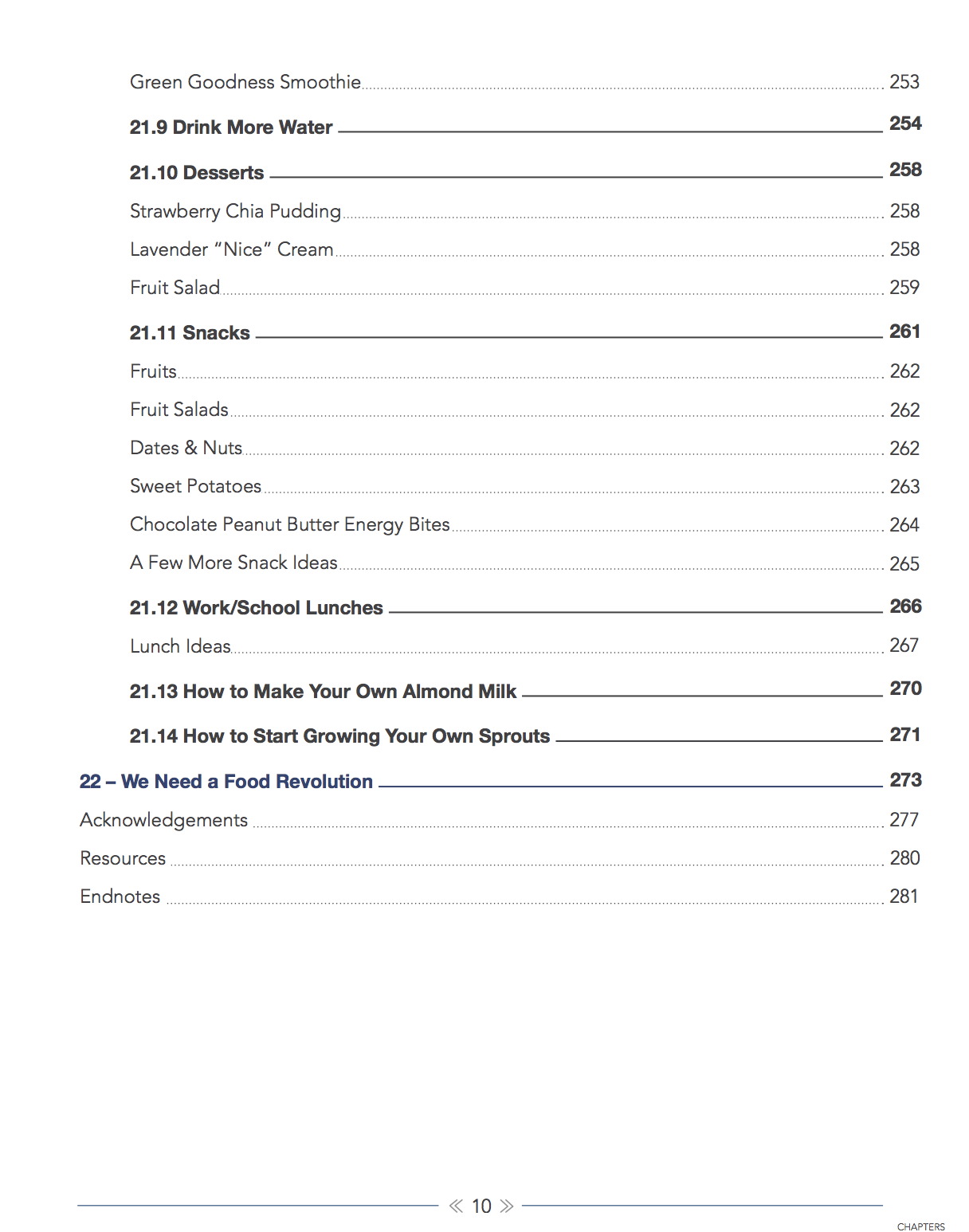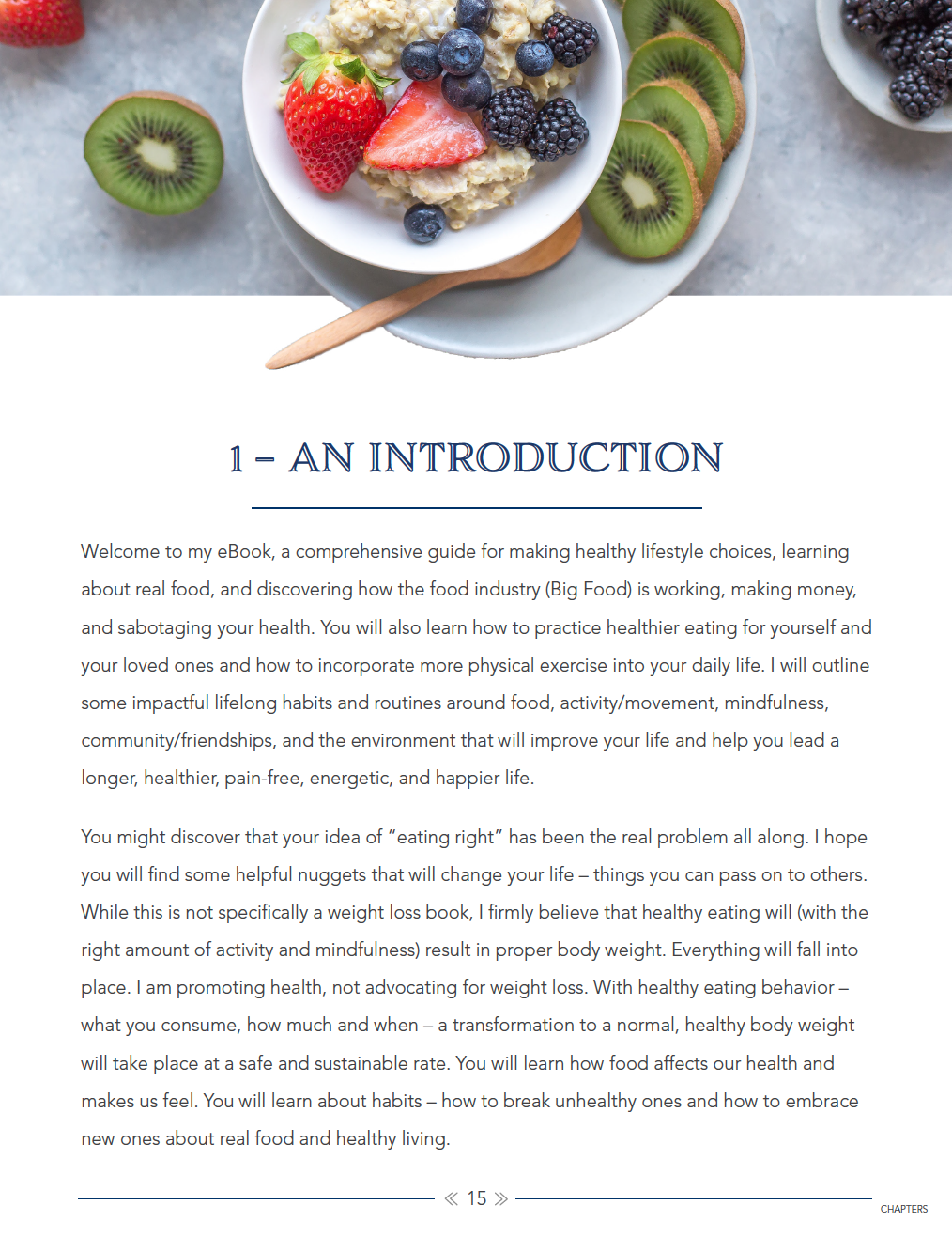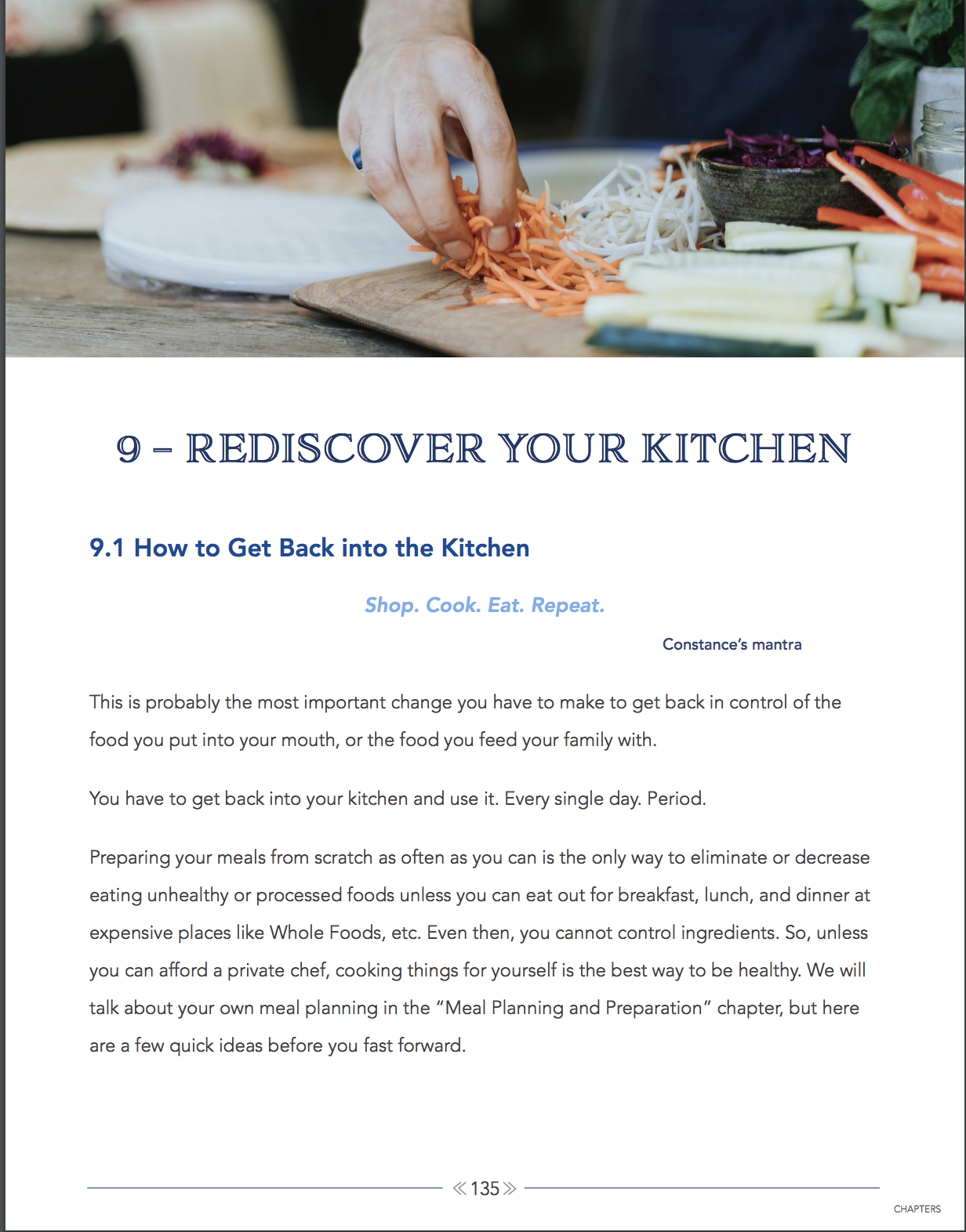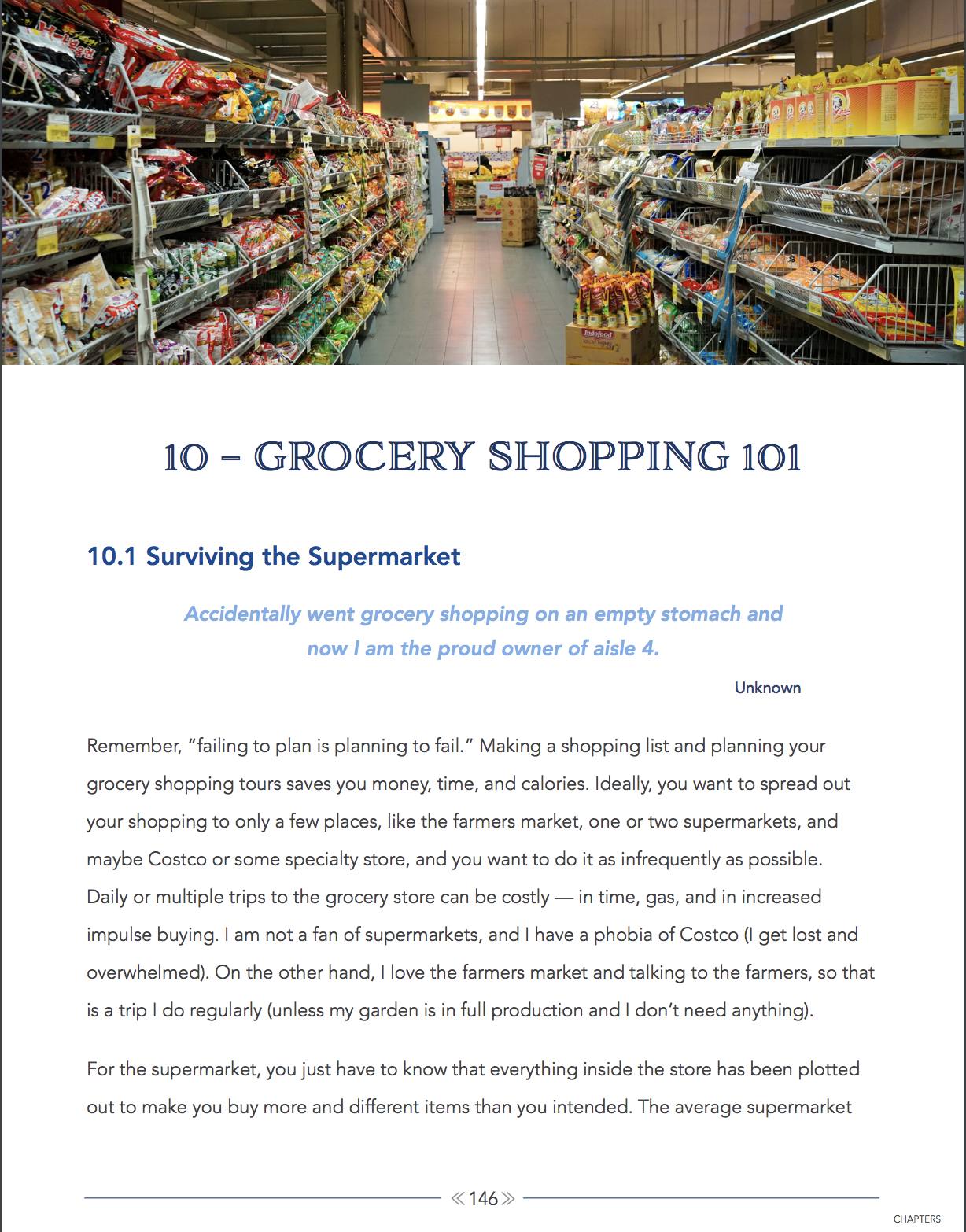 Part 1 – What You Will Learn… (Knowledge is Power):
How we have become so sick, inactive, and overweight

How the Food Industry works, misinforms, lies and makes us sick, and addicted to food-like substances

Why you are in this predicament today and why YOU are in charge of your own health

How the food we eat is the main cause for the Standard American Diseases (cancer, Type 2 Diabetes, hypertension, heart disease, overweight and obesity)

How the Medical and Pharma Industries act like food doesn't matter, and the Food Industry acts like health doesn't matter

Why food is the problem, and food is the solution!

How chronic conditions such as Type 2 Diabetes, overweight, obesity, cancer, and heart disease might be prevented, halted, and even reversed with a healthy lifestyle and healthy nutrition/ food

What "real" food is and isn't

How to make a smart decision between organic and non-organic

The benefits of a plant based, whole foods lifestyle (even if you don't become a vegan)

Nutrition and health myths (protein, iron, calcium etc.). We are not sick because of any specific deficiency, rather we are sick because of excess – (calories, weight, salt, sugar, and fat)

The big Dairy Lie, – or "White Wash"

The truth about Concentrated Animal Factory Farming (CAFO) and how it affects your health and our environment

How weight loss works and why it is not a diet but a lifestyle!

Why meal plans don't work and why you should come up with your own

How weight loss and maintenance fall into place with just eating "real" food (cut out the junk) and moving regularly

Eye-opening facts about Brain Health – and how it is affected by food!

Some interesting facts and approaches about sleep – research shows that sleep deprivation is linked to every major disease!

Some thought-provoking statistics and facts about alcohol (hint: wine is not a health food)

Information about stress, habits and how to break the rat race in a hamster wheel
Part 2 – Instant Action Plans:

Use your new knowledge to change your habits

Create realistic goals, an action plan, and get organized (failing to plan is planning to fail)

Make more (regular) time for your wellbeing, make health your # 1 priority

Get back into the kitchen

Choose the right foods at the supermarket and at the farmer's market

Read food labels and shop "smart"

Easily plan and prepare "real food" meals

Decide when to buy organic and when conventional is okay

Eat healthy on a budget

Manage eating out by finding the healthiest option on a menu

Create change in the work space/ work life/ office environment

Stay on track when traveling

Maintain a healthy focus around the holidays, and amidst unsupportive (yet!) family and friends

Cope with psychological issues/ stress eating

Be more mindful in your daily life (mindfulness, meditation, and breathing)

Why your local farmers markets are a great source of food

Find great food right in your community – how neighbors can empower each other

Start to grow your own food, from one pot to an entire edible landscape including composting

Incorporate more activity into your daily life/ embark on an exercise program, despite your hectic schedule

How to get back into the gym (build your tribe – and have fun doing it!)

Include biking and walking in your transportation plan

Move more as a family – and make it a routine

Restore your restful sleep (you will make this one of your new hobbies!)

Create camaraderie/ accountability/ community – build your like-minded network!

Feel much more energized and ready to go!
You will learn to put these things together and establish healthy habits you can start right away:
Healthy habits around food

Healthy habits around exercise

Healthy habits around sleep

Social habits around/ with people/ friends/ relatives

Healthy habits for yourself

Healthy habits for the environment
Last but not least, you'll receive a variety of quick, easy and healthy recipes that you can add into your own meal plan immediately:
Breakfast

Soups

Bread/ baking

Sandwiches

Dinner

Smoothies

Flavored water

Dessert

Snacks

Food on the go

School lunches

Make your own Almond milk – a fantastic dairy alternative

How to start growing your own sprouts (alfalfa or broccoli sprouts)
How Change Happens
People usually change in one of three ways –
They either have an epiphany (knowledge!)

They change the people they surround themselves with

They make small incremental changes every day, every week
Seeing the truth, that we live in a toxic society that does not encourage us to be healthy should be a wakeup call.
My goal is for you to achieve all three changes – gain the knowledge and feel empowered, add more like-minded people into your daily life, and make the steady small incremental changes that lead you to a healthier and happier life.
While lifestyle modification does take effort, it is the only way to achieve long lasting health and lifelong weight control.
Don't wait until you have the time, because then it'll never happen!
Don't wait for a health emergency to happen (cancer diagnosis, pre-diabetes or diabetes, heart attack), because the prevention (moving, cooking etc.) is so much more fun!
If you want to make a lasting change, you HAVE to get informed, make time for healthier eating, and add regular activity into your daily routine.
"Better Health for Busy People" is all about simple, efficient and effective strategies that will help you achieve a healthier, happier lifestyle that you haven't enjoyed in a long time, regardless of what life is throwing at you!
I've designed this book to be super easy to pick up and start receiving benefits from right away. You can build a healthier lifestyle by putting the "puzzle pieces" together, habit by habit, day by day, towards a much healthier and happier YOU!
Ready for a change?
Curated Resources
Lastly, I will share with you many resources that I have personally vetted to guide and inspire your journey to well-being. These include books, information from renowned authors, websites, valuable and inspiring TED Talks, cook books, and apps.
Practical Advice You Can Implement Immediately
My book is a practical guide to better health and long lasting wellness.
I have put hundreds if not thousands of hours of research and learning over the last decade into one comprehensive book so you can easily access this information FAST, save money, time, and frustration.
You can still book me as your health coach or personal trainer for my hourly fee, but I found that the one-on-one model to teach clients doesn't reach that many people.
However, I am here for you if you want more individualized and personal help, and I always love to share my passions in person.
You could work with me as your health coach (or health coach x) personally for $100 an hour over the course of several months or even years, and that might be a great option if you are able to do that…
Or, you could spend $9.99 today and have a practical powerful handbook with you at all times, with immediate results and ongoing support, 24/7.
Sounds good?
Then dive in and get started with this ebook NOW!
I look forward to hearing about your journey and transformation. A Better You is just around the corner!
In Health,
Constance