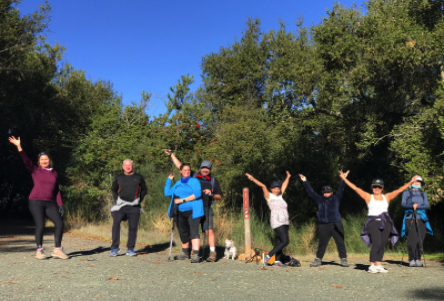 Start small. Hike up a hill in your neighborhood. Walk a few blocks to see the sunset or sunrise. Make sure you get a good glimpse of that rainbow.
Start with the family or invite a friend. Maybe make it a point to go on a hike every weekend to explore your surroundings. (My friend Sabine went on 50 hikes the year she turned 50, during the pandemic!). Join an organized hiking, walking or running group (Open Space Authority, Nextdoor, Meetup, check your local paper or the Internet.) or download an app like Alltrails.
If you want to join me for some wonderful hikes here in the Bay Area, check out my Meetup group "Healthy Adventures (Bay Area)".
As for equipment – for a hike you really don't need that much, but some comfortable sturdy sneakers or good hiking shoes if you go off terrain are a great investment (check the sales rack at REI, I have gotten two pairs of awesome hiking shoes for a good price). With a lot of wear and tear in my right knee from a previous injury hiking poles are essential for me. They protect the knees, especially when going downhill. They improve power and endurance when walking uphill and aid balance on uneven trails or when crossing rocks in a stream. Additionally, they improve posture, especially on longer hikes when you tend to get tired. There are wonderful YouTube videos on how to use hiking poles and I highly recommend them!
My favorite Bay Area hikes include Mt. Umunhum, Mission Peak, and the truly enchanted forest of Nisene Marks State Park in Aptos.
One of my favorite family hike memories is taking our 8-year old kiddos up to the peak of Mt. Lassen (combined with camping at the Manzanita Lake Campground.)
We have also done fantastic hikes around Lake Tahoe (some with the twins in baby backpacks, that's quite a workout!! Who is carrying the water or food??), the Grand Canyon (sun on the way down, snow on the way up), Utah's beautiful National Parks, and Yellowstone & Glacier National Parks.
A great hike in Northern Germany (that is usually flat) is a hike up the "Brocken", the highest peak of the Harz mountain range.
One of the most beautiful hikes I have done was just a few months ago in the Deschutes National Forest near Bend, Oregon – it was stunning!
What are some of your favorite hikes? Please let me know!