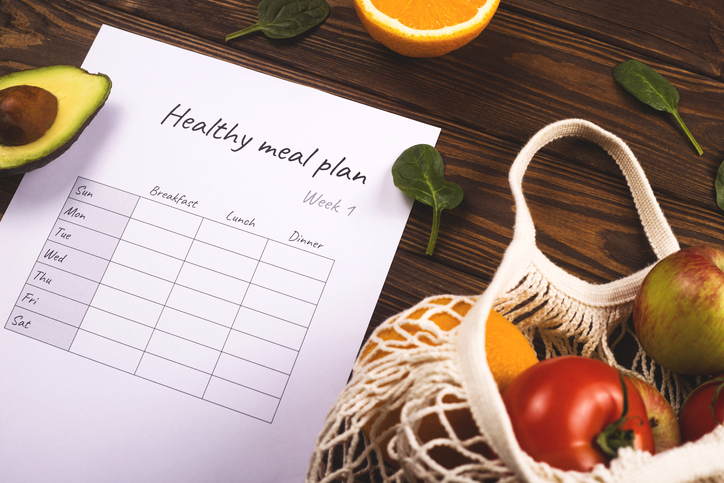 One way to organize your kitchen and make food preparation easier is to create a meal plan. You can start with a simple plan for a few days and repeat healthy options as you get comfortable. For example, make it a priority to make fresh, healthy breakfasts for the entire family for most of the days during the first week. Then add on healthy items in the kids' lunchboxes. Or, cook two or three dinners, double up, and have leftovers for your lunch the next day or night (complemented with another veggie).
So, how do you get started with your own meal planning? A few simple strategies help save both time and money. While organizing might not be your favorite thing, I want to emphasize that advance planning really is the key to saving time, stress, and calories as the need for quick "emergency" takeout or dining out meals will be greatly reduced. One of my favorite sayings is "Failing to plan is planning to fail."
Essentially, your meal planning and preparation should save you time in the kitchen and make it easier for you to eat healthier during the week. Some people do a weekly meal planning (the strategy for my household), others plan a few days only, and some, like my friend Laura, do a full month of planning ahead.
My tips for Successful Meal Planning:
Don't try all new recipes – stick to the "tried and true" recipes that you know are healthy, easy to prepare, and are family favorites. Then gradually add new recipes to your repertoire.
Have an outline for the week and plan a few days ahead.                           
Look at the calendar and plan for eating out (if necessary), potlucks, the kids' soccer or baseball schedule, and plan ahead for times when meals will happen in the car (game night, or you have to have breakfast in the car on the way to meeting a client). Prepare a healthy sandwich, smoothie and/or cut up veggies/fruits rather than doing fast food or snacks out of a bag or that Starbucks breakfast.
For some people, it works well to have a designated pasta day, a rice day, a casserole day, a soup and salad day, a slow cooker day, or a pizza day.
Once a week, plan a leftover day! The leftovers can be rolled into a whole wheat tortilla together with salsa or guacamole or topped on a salad with the sky being the limit. Empty the fridge and mix and match. It's like raiding the refrigerator! Use tortillas, collard/ cabbage greens or seaweed (nori) to wrap up greens and leftovers. Spread with yummy sauce. This is a great idea for lunches the next day, too.
Block off some time on the weekend (or any day) to plan the week, to write a shopping list, and to get started with some meals (preparation) to create a "food bank" in your fridge. I usually do my shopping list on Friday as I go to the farmers market on Saturday.
The "food bank" can be a pasta sauce, a big container of rice, a couple of salad dressings, containers with cut up veggies, and a favorite soup, all prepared in one session. I usually start a few meals on a Sunday afternoon or evening. Then I use this "food bank" to do some "mix and match" meals. The pasta sauce can go with pasta one day, the next day sauce leftovers become a soup base. Other ideas are to add to rice, spread on a whole wheat tortilla with freshly cut up veggies on top, mix with different veggies or a salad and it is an entirely new meal.
Always double up any recipe – cook once, eat twice. For example, if you need rice for a dish, double it up and use the extra rice for fried rice the next day or a couple of days later. Always double up sauces, soups, casseroles, lasagnas and then freeze for those days when you don't have time to cook.
Prepare a couple of veggies that store well (roasted cabbage, roasted sweet potato, roasted cauliflower, etc.). Keep salad dressing separate from fresh salads so you can use leftovers the next day without everything being soggy. Fresh cut up veggies like peppers and cucumbers last several days.
Do prep work ahead of time, like chopping of veggies, in small pockets of free time. Use a free morning to cut up all the veggies for the stir-fry at dinner. Chopped onions, carrots, or peppers last a few days in the fridge. Spiralize zucchini if that is a fun thing for you. I often cut up all the veggies for dinner in the morning and then have them ready when I get home. Be sure you have environmentally friendly containers on hand to reduce your usage of plastic storage bags.
If you are not sure what to make for breakfast, consider smoothies and overnight oatmeal as both can be made ahead in large batches for the entire family.
Plan well-balanced meals that include plenty of whole grains, organic veggies and fruits, and different colors of the rainbow on different days. During April include seasonal: arugula, asparagus, chicory, dandelion greens, lettuce, leeks, and rhubarb.
Feeling inspired? Ask me for my 7 day plant-based meal plan with recipes and shopping list and I will send it to you. You might come across a few new ideas to kick start your own meal planning program.