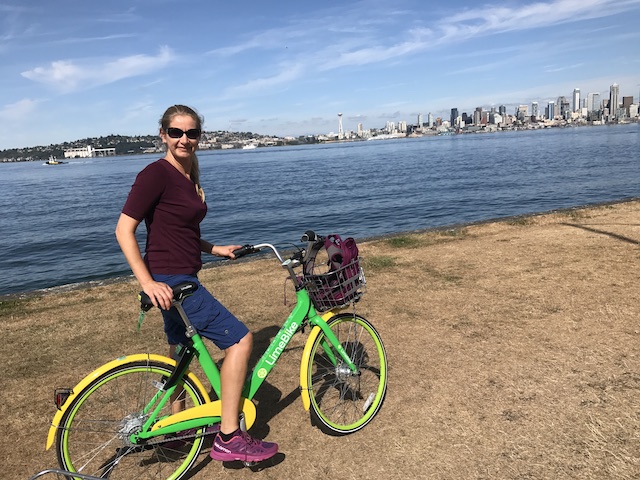 Invest in a bike. I recommend checking out the local bike store (you get the best service here and support a local business. Make sure you try on bike helmets too), Craigslist, or even Freecycle.org. You don't have to start with a new expensive bike with all the bells and whistles. Look for sales, like last year's model. Request a bike as a gift or even better gift the whole family with bicycles to encourage fitness for all.
Electric bikes are on the rise too. They are more costly as an initial investment, but they are a great transition to more biking for many. And you don't have to be physically fit to ride one. It gets you outside, reduces fossil fuels, reduces traffic congestion, and it's fun.
If balance and stability issues are a specific concern, I recommend you check out three wheel bikes for adults which ensure stability and safety. Adult three wheelers are designed to be comfortable, easy to use, and provide good storage options with oversized baskets for packages.
As with most things – I recommend you start small with local neighborhood
errands or short regular commutes, like to work or to your nearest bank or store (with a backpack). Make sure you get a heavy duty lock too.
Once you've become comfortable you can include going on a bike ride on your nearest trail; take the kids with you. Maybe make it a weekend routine. There are some great biking books out there; ask at your local outdoor store.
Don't forget to look into some cycling apps too – apps like "Strava" or "Map My Ride" not only track your rides (it's fun to see the miles adding up over the course of the month), but they also help you navigate your city if you get lost or look for a healthy bite on the road.
Check out a work commute that includes a bike (check Google Maps for bike options; check the bus and train network for possibilities to take the bike with you). Biking to work not only provides you with the necessary regular exercise and blasts calories, but it is also good for the environment and your wallet. Or look for an option to combine biking and public transportation. This might take more time than using the car, but if this is the only way to get exercise (because you won't manage after work), then this is a great healthy compromise/alternative. (Usually there is an option to shower at work.)
Did you know May is National Bike Month, Bike to Work Day is sometime in May, and National Bike to Work Week is held usually in mid-May? Check to see if your employer supports these events. In 2021 they might still do it online. In larger companies and organizations there are usually some fun activities around the event, like bike stops or raffle prizes.
Have you noticed more and more bike lanes in more and more cities? I know this is moving a little slower here in the U.S. than in Europe, but with the help of Google Maps (click on bike options) you can find a way around the busiest highways, through parks, and along trails. Even if it takes you a little longer to get to your destinations, it will become routine.
Constance's tip: if you are in the Bay Area, check out the San Tomas Aquino and Guadalupe River Trails – they are safe, extensive and well maintained. I went on a bike ride recently from my house in West San Jose to the Alviso Neighborhood at the South end of the Bay, and it was a fantastic outing.