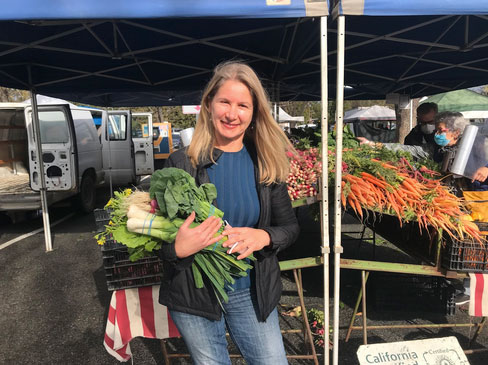 As I have recommended before, check out the "Daily Dozen" and "Clean 15" list by the Environmental Working Group (ewg.org) to guide your shopping. Items on the Dirty Dozen list tend to be heavily sprayed with pesticides when conventionally grown. Here you would make a great choice by going organic if you can.
Walk around the farmers market to gather the whole picture – see everything. Compare prices and freshness; meet the farmers if you can. Over time, you will develop favorites. If you are a regular customer, they will give you great deals and share their recipes with you. They might even invite you to tour their farm.
See a fruit or veggie you have never seen before? Ask what it is and how to prepare it. This way, you will widen your horizons. Maybe try a couple new things every month.
Bring your own bags, backpacks, or baskets! Backpacks are great for heavier goodies, and you still have your hands free. Many farmers still don't accept credit cards, so bring some cash, preferably small bills.
Don't always go for the beautiful, perfect produce. Look for funny or not so pretty shapes. (Imperfectproduce.com has become very popular for a reason).
Constance's market hack: go towards the end of the day when the farmers start to take down their stalls. Not only is it less crowded, but the farmers give you really good deals. I compared the prices at that time to the ones at Costco, for example, and found the farmers market is very comparable – but you get local, freshly picked produce without the plastic trash and you support the local growers! Did you know the organic farmers have to pay for the label to be certified organic? It should be the other way around – I want the often subsidized agricultural industries to pay for the label and then disclose what they spray onto their fields and put into the products.
"You can either pay the farmer now or the pharmacy later!"